Self-employed productivity tips
Breaking free from the rules of upper management is one of the perks of being your own boss – but like any employment role, it's still important to have systems in place to avoid any productivity drop-off. Work not getting done or quick enough can often be a source of stress you could do without, especially when your income is directly based on satisfying customers. Read through our list of productivity tips we've picked up over the years.
From total beginners or seasoned professionals, there is something for everyone, even if you only take one away with you, it's got to be a plus.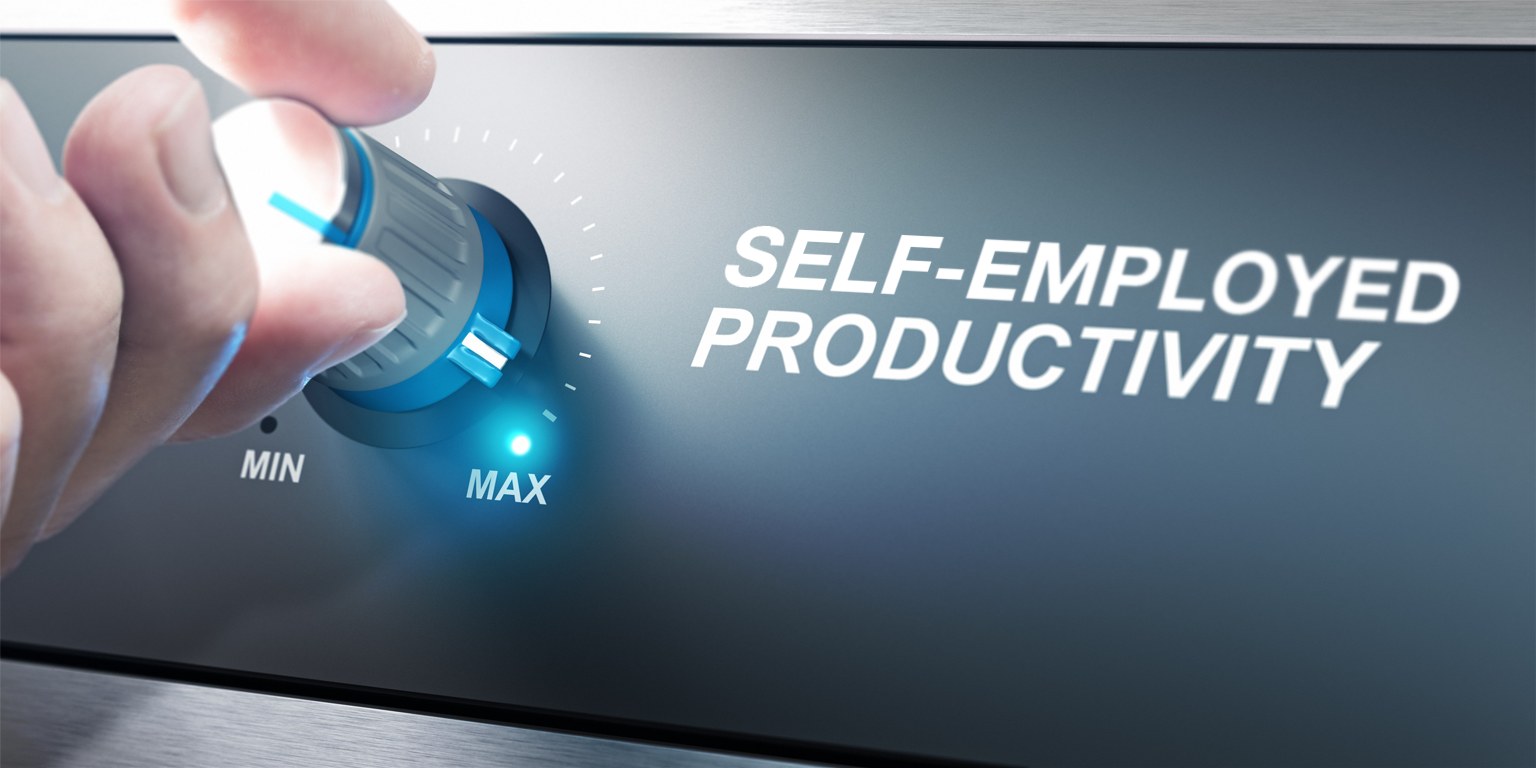 Online tools – to make life a bit easier
Being self-employed can be tough. There's so much to think about, keeping track of invoices, understanding what expenses can be claimed for, and probably most importantly staying on top of your cash flow.
There's a lot of self-employed tools out there to help you navigate through getting work done.
You can set up and manage your projects more effectively. Tasks can be assigned to team members, updates and messages can be sent about ongoing projects through the built-in messaging system. It's also great if you are collaborating with a 3rd party on larger-scale projects.
Great for scheduling emails – write your email, schedule it, and Boomerang will take care of the rest. And there's more…
Boomerang can remind you when a client hasn't responded to your email. For example, if you send some proposals and you've received nothing back. These may have slipped through the client's fingers. Boomerang will give you a gentle nudge to follow up on any unanswered emails.
When using digital platforms, you can easily find yourself in a spot of bother with copyright laws by using an image without your right to do so. Flickr Creative Commons advanced search option will filter only images that have been tagged for commercial use.
This program is a FREE great alternative to Photoshop. It's very useful for changing image resolution and cropping for web use, with an array of tools, it blows MS Paint out the water.
Google
Apart from search, locate and browse functions, Google has additional software and plugins to your make life much easier. If you're a new start-up, Google can quickly become a best friend – it provides an array of useful instruments such as Calendar, Chat, Documents, Drive, Gmail, Hangout, Search and Spreadsheets. Google provides the basic versions of the apps for free by signing up to a Google account (you don't need to use a Google email address, but it can make things easier). If you choose to have a more professional email address along with advanced features, you can always sign up to G-suite for your business.
Effectively allows you to oversee all your social media accounts relating to your business – including Twitter, Facebook, LinkedIn and Instagram all under one login.
Schedule your posts at once and use the social analytics tool to plan your social media strategy. Scheduling tweets allows you also to experiment with the effectiveness of your content posted outside of working hours. Their TweetDeck option can also be useful for managing several Twitter accounts at once, but it doesn't provide a full social media overview.
IFTTT (If This, Then That)
This is a service that "gets the Internet to work for you", and automates communications between different web services. You can build "recipes" using the "if this, then that" formula – such as the Met Office forecasts rain, you'll get an email telling you to take an umbrella out with you.
A useful automation which has an extensive library of user-created recipes that will save you time and effort.
The Aladdin's cave of the business world! This is a great way to get yourself noticed, connect with other like-minded people, learn from their experiences, you can also target sector or specific groups and join in relevant conversations.
Although it can be frustrating skimming through the annoying 'motivational' quotes and recruiters spam, but it's a great place to try and find work.
The Buxton Partnership can provide sophisticated digital software at a reduced monthly cost, giving you access to your accounts 24/7, so you can spend more time doing what you love!
How many passwords do you have to access different accounts? How many times have you forgot passwords and had to reset them?
Passpack is a great way to store and manage all of your passwords in a safe, encrypted online file.
Do you get easily distracted by the internet? This will help you stay focused by tracking specifically your web-activity and allows you to view reports based on your browsing.
Stay on top of all your emails and comms. This is a very useful and popular instant messaging service for you to communicate with other users or team members through an app for your computer or device.
The biggest plus of Slack is that it removes endless emailing back and forth. You can integrate Slack with other must-haves, such as Asana and Google Drive.
This is a Google plugin and CRM tool for tracking sales, hiring processes, investors, partnerships, vendors and more, all from within your email. Perfect to help you stay on the same page as everyone in your company.
A great online survey platform, that will enable you to make smarter and more efficient decisions, whilst being in control of your data. You can design your own survey, choose how they are distributed, and then analyse the results with no need to involve a third-party company.
Make your time count with this effective time management software.
Create your projects and tasks, then simply start the counter. You'll quickly find out how much time you're spending on them specific areas. You can also enter whether a project is billable, giving you the option to show clients how their money is being spent.
This is a great app if you need support organising your workload. Sort your workload into projects and subsequently into boards. For example, you could create a project called Content Work with boards labelled 'To Start', 'In Progress', and 'Completed', then in each board you simply create cards for the different pieces you're working on.
You move these cards along the boards in line with your workflow. Trello then provides you with a visual aid to see the different stages your work is at.
These are just some of the hacks and apps we've come across to improve our productivity. If you have any other options, please let us know.
Be sensational at organisation
When running your own business, you'll have to adhere to certain levels of being organised. Being late or missing work deadlines, invoices or falling behind with bookkeeping would have an impact on you running a smooth operation. Following the below steps will help you be an organisation sensation.
1. Make a note
When your mind is clotted up, it can be really hard to think properly. Jotting your thoughts down on paper gives you structure and allows you to prioritise and work through one thing at a time.
Note making can help alleviate any stress. The more organised you are, the less stressed you'll be. If it's on a piece of paper you won't forget about that next big idea
2. Stay tidy
Keep a bin or a recycling bin nearby to throw unwanted rubbish or paper in. Surviving on cookies or coffee? Get rid of the packets or cups. As much as possible keep a tidy workspace.
Some clutter may be good, but if you have a pile of unnecessary items taking up your desk space you might want to rethink their purpose.
3. Plan ahead
Wanting to start the weekend early? You're the boss, so that's fine if you plan, organise your time effectively to meet any deadlines and any projects that need working on to stay ahead of the game.
Planning will help you be a lot more organised and make better use of your time. Using your phone, calendar, or even go old-school with a diary to pencil in project time slots. This will enable you to see what the week holds so you're not winging it each day. Don't forget it's also important to plan for some boring admin time too: bookkeeping, receipt filing or invoicing.
Four productivity hacks
We can often spend our working lives in a state of bamboozlement working through ever-growing to-do lists and differing mindlessly online. So you need to be honing in on your productivity, this can be very simple, you just need to put the science into practice.
1. Block working
It can be hard to keep your brain focused throughout the day, so therefore it's better to manage your energy levels for longer periods by taking breaks throughout the day.
Working in 30-minute blocks and taking a break in between can keep you focused and reduce any unproductive differing.
2. Daily exercise
It's proven that exercise is good for your overall happiness and wellbeing. Are you aware that it's also proven to be excellent for productivity?
You don't need to be a fitness fanatic to take 10-20 minutes out every day and get some light exercise. Adding regular exercise into your daily routine helps slow down the brain's ageing process and keep you on top of your game for longer.
3. Rise and shine, avoiding the snooze button
Rising early is a productivity method used by many successful people. Branson, Obama and many more all favour "mind over mattress".
By simply waking up one hour earlier you'll not only gain fifteen days in a year but you'll also have the time to tackle the tasks you always put off due to the excuse of "there are not enough hours in the day".
4. Develop a working routine
Being your own boss means you must take control of your working routine. It's not 9-5, there's no cut-off point to leave the office and head home.
Working with a daily routine is a great way of prioritising tasks each day, setting time limits, taking breaks and putting in to practice the tips that have previously been discussed.
By having routines, you'll quickly find that you not only be more productive, you'll also eliminate any stresses that get in the way of a crazy and disorganised working life.
Practical things to make you better at being self-employed
Managing to get your head around the British tax system, plus credit control, business development and trying to be a marketer whilst trying to juggle family and social life can be a real headache.
Being self-employed, you can tweak many things to make your job that little bit easier. Here are some practical tips to being a self-employed master.
Do your business processes need evaluating?
Assess which business processes and activities you're not getting value from and either restructure them, or say 'bye, bye'.
What do you want to achieve this year? More clients, learn some marketing skills or increase your rates. Putting your objectives into a manageable chart or spreadsheet, you will be able to measure your progress.
How are you going to achieve your aim? What are the costs? What timeline will you set?
Think S.M.A.R.T to clarify your focus – Specific, Measurable, Achievable, Relevant, Time-based.
Following this method will make you aware of exactly what you're doing and why. Then you can evaluate what works and what doesn't.
Rethinking your client-base
Do you have any clients from the beginning of your self-employment journey who may pay much less than others and maybe require more attention?
This is your opportunity to assess the clients that may be holding you back and bring them in line with clients who pay more. This will manage your time cost-effectively and increase your daily income.
Get a standard contract
It can be an easy situation to be in. You put a proposal together for a new-found client, they agree for you to do the work and you excitedly get started – but you have no contract in place.
Don't stress as certain rights, including your right for payment, are legally enforceable without a contract. Going forward you'll be in a better position if you both have a contract to sign. This can be easily rectified by having or finding a standard contract.
Get into the habit of emailing this off to new clients before you start work to alleviate any potential problems.
Is your work cost-effective?
One way to visualise the cost-effectiveness of your work is to create a graph using Google Charts and enter the cost of each job, how long it takes to complete and your profit – you will see what jobs pay off and what don't. You can then focus on having more cost-effective projects with clients that pay.
Only use one email address
One of the great things about email systems is the ability to have multiple addresses in one inbox, but beware this can also be a double-edged sword. You accidentally email a client from your personal email account rather than your business email address can easily confuse them. Even worse your email could get lost in a muddle of a badly-configured CRM system and get completely ignored!
Stick to a single email address or enforce a strict dividing line between business and pleasure. Keep them in separate inboxes and only open work emails during your business hours.
Naming files
All of us at some point have received an email from a client asking "to resend the latest invoice", two hours later you find yourself in a fit, cursing your filing system.
Avoid these organisational nightmares by a having a simple and sensible filing system with naming conventions, keeping your clients in mind. If all self-employed Acme Inc.'s sent invoices named "Acme Invoice 2020", finding that particular invoice on your system will be a bit of a challenge.
Is marketing a priority?
It should be. Many self-employed can often work by the principle of 'a bird in the hand is worth two in the bush', and just concentrate on the jobs in hand, rather than thinking about where the next job is coming from. Quite often this can lead to a familiar scenario of manic periods of working long hours, followed by a period of doing absolutely no work.
Try setting aside time every week, no matter how busy you are, for marketing your services or products and getting yourself out there. This could be networking, responding to project adverts, advertising, social media, cold calling or other methods. Whatever you do, make sure it is part of your schedule, rather than being done ad-hoc when you don't have much work on.
Portfolio, does it need updating?
Hopefully, you've had a fabulous year, and have an abundance of projects to add to your portfolio or skills to add to your CV. This is your opportunity to update your portfolio with showcase pieces you're most proud of. This makes it easier when you come to look for new and better-paying clients.
Reminders
This is an obvious one but you'd be surprised how many miss deadlines because they simply forgot. Set reminders well in advance of each deadline, as well as the dates set in your calendar, this way you will be inundated with reminders not to miss them important deadlines.
Do your suppliers need reviewing?
There are plenty of cheap options for stationery and supplies available online. Paper, printer ink and stationery costs can be trimmed at sites such as Staples and Viking Direct, while Solopress and Moo offer great deals for business cards and printing.
Should your web hosting also be evaluated? Do you currently have the most cost-effective option available? Siteground offer great packages with good customer service also.
Rather than simply renewing contracts, set a calendar reminder when they are due to finish to research alternatives. You could save yourself a bit of money.
Taxes are not to be ignored!
Don't give yourself and your business unnecessary stress, never leave it to the last minute. Most importantly your annual Self-Assessment. Get into the habit and start now to keep on top of your finances monthly. Once you get into your stride, you'll find it takes less time and removes stress in January.
DON'T miss any of the Companies House or HMRC deadlines as these could cost your company thousands and result in you losing your company altogether.
By filing your Self-Assessment early, it gives you time to save for your tax bill. Leaving it to the last minute, you may find you don't have the money to pay the full amount outright, which means you'll get extra fines.
Need a bit of Self-Assessment help?
At The Buxton Partnership, we're experts with numbers and love accounting so you don't have to. You can trust us to make your Self-Assessment jargon and worry-free as it can be. Our expert chartered certified accountants will take care of you, just like we do for all our other clients every year.