Why innovation and holistic management is the future.
Many companies aim to be serious about innovation and holistic management. It's been a trending topic for some time. Yet still few companies are training employees in the principles and practices of innovation and holistic management; few have actually taught people how to be business innovators.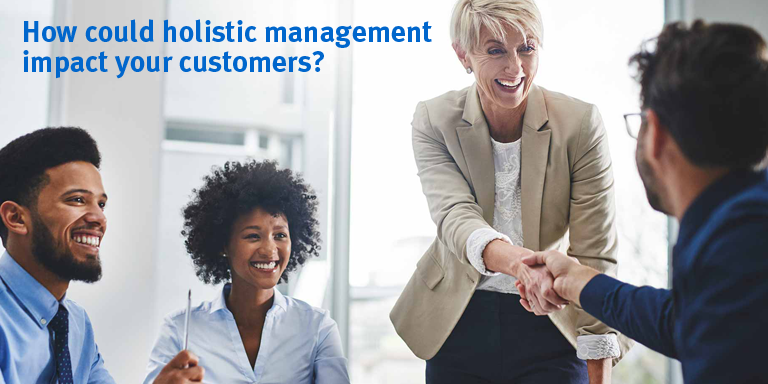 Teaching people holistic behaviours is not hard; teaching how to be sensitive to customer needs, how to think about the company's skills, competencies and be creative in imagining new ways to leverage them. Teaching how to be attentive, to be alert to what's changing in the environment around them and to think about how those discontinuities might be used to change a business model.
These Innovators will then become enablers; streamlining processes or bring new business ideas into a reality. They may question the status quo and the old adage, 'if it's not broke don't fix it', which means we often plod along with old style methods. Instead employees should be encouraged to be stakeholders, part of something bigger and more rewarding.
It's very possible to teach people how to be innovative but most organisations don't do it.  Why? If you look at the internet today, you will find enormous innovation and creativity everywhere from very unexpected people.  Amazing YouTube videos and blogs from people who are not trained film makers or writers. Some of whom may have failed within the education process but found an alternative route to achieve their goals because they are self-motivated and forward thinking.  Everyone has the ability in some way to develop.  Some employees will need training to become innovative; companies need to develop and recognise them as an asset.
Once an employee becomes part of the bigger picture their success comes from seeing both the end goal and the steps to get there. We must remind ourselves and those we work with that we're in this together – many moving parts working towards a common goal.
Holistic management will impact customers. Customers who experience a holistic management approach will enjoy a shared partnership experience that supports them and helps them meet their objectives and goals.
The problem with holistic management is that it is both simple and difficult.  On a daily basis, we tend to tackle tasks in front of us with a 'head down' approach, single-mindedly getting through our list of priorities.  We are unlikely to step back and visualise why those tasks matter and where they fit into the bigger picture, or in fact if the tasks could be dealt with more easily, which would then save time going forward.  No, we just plough through the tasks.
To embrace an innovative and holistic management strategy, it is important to understand where your product, service, or technology fits into your customer's full business lifecycle. This is where training your employees to take this approach becomes vital. They should be able to determine how to solve your customers business problems around that lifecycle. Therein lies the value for both parties; mutual respect and commitment to shared goals. You are then less commoditized and more valued. Result: a more holistic, less head down approach.
With the bigger picture comes greater success for all!
To help your business improve and grow, please visit our other blogs – you won't regret it.